MINI GOLF + BATTING CAGES = SHEBOYGAN COUNTY FAMILY FUN!
Opening Weekend May 2nd & 3rd
Noon - 6:00 pm
May 9th & 10th
Noon - 6:00 pm
May 11th - June 7th
Monday - Friday: 4:00 pm - 7:30 pm
Saturday, Sunday & Memorial Day: Noon - 7:30 pm
June 8th - August 31st
Monday - Saturday: 10:30 am - 9:00 pm
Sunday: Noon - 7:30 pm
4th of July
10:30 am - 6:30 pm
Labor Day Weekend 
Friday - Monday: Noon - 6:30 pm
After Labor Day - To Be Determined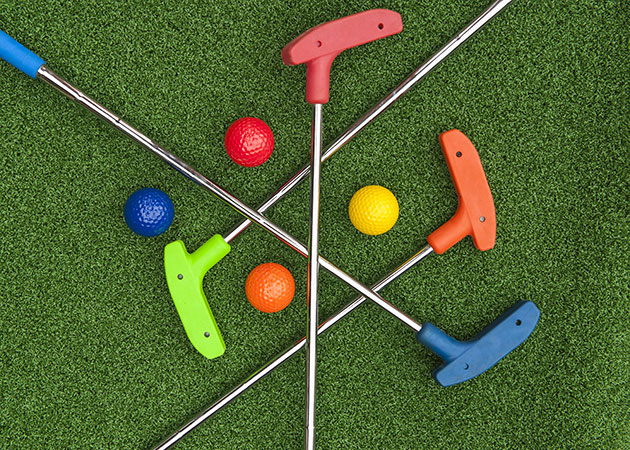 Play two 18-Hole Mini-Golf Courses for double the fun! Shady Trails Golf Course is our family-friendly course, perfect for "kids" of all ages. Stoney Creek Golf Course is a little more challenging, with fun twists at every turn!
Mini-Golf Rates (per 18 holes)
Adults $7.50
Kids 12 and under $6.50
Kids 3 and under $1
Now accepting VISA, Mastercard & American Express!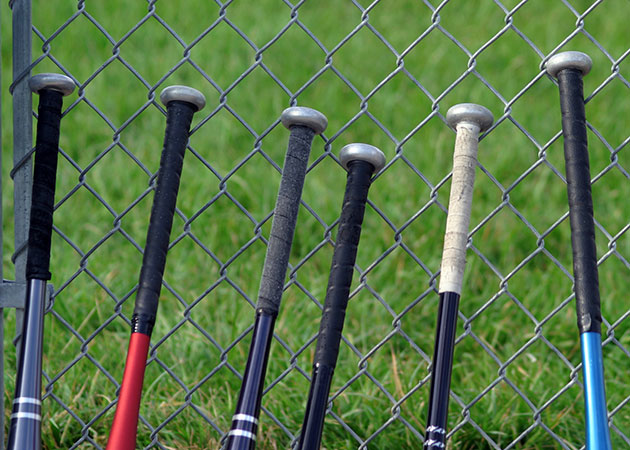 We're proud to offer 6 fully automated outdoor batting cages, with 3 speeds for baseball and 3 slow pitch softball cages. With all the extra batting practice you'll go back to your school or league team ready to swing for the fence!
Batting Cage Rates (15 pitches per token) 
1 Token
$1.50

4 Tokens
$5

20 Token VIP Card
$20
Now accepting VISA, Mastercard & American Express!
Looking for the perfect gift?
Give Tom & Jerry's Mini Golf & Batting Cages Gift Certificates!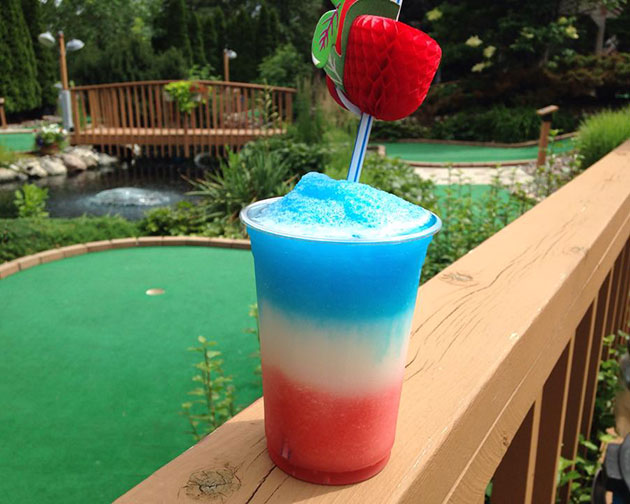 We keep our snack bars stocked with savory snacks, frozen treats, and your favorite candy bars, along with water, gatorade, Coke and Pepsi products. The star of our snack bar, however, is our granitas!
What's a granita? It's a cross between a slushy and a popsicle - the perfect outdoor mini golf treat! We blend these refreshing "Italian ices" in delicious fruity flavors such as strawberry, lemonade, pina colada, and orange creme. You gotta try one!
Like our Facebook page to get up-to-date information on activities and weather closings.
"Great mini golf course! My family had a blast! Each of the holes is uique and entertaining!"
"Great place to take a family. Shaded course is nice for a hot day!"
"Friendly staff, well-kept property, nice setting, family friendly."
"Great course! Great prices! Tons of fun!"
"Well maintained course. Gorgeous. Had a lot of fun."
"So fun! We went there on a whim, so glad we did."
"Great family fun at an affordable price."
"Batting cages are great. Great way to relieve stress!"
"It's nice that you have two mini-golf courses to choose from. My kids love going there!"
"Lots of fun for all ages!"
"Hands down, the best mini golf course around!"
"We had a lot of fun! Thanks for being in Plymouth!"
"We took two of our grandsons and had a great time."
"A fun time with the family!"
"We drive over from St. Peter to visit this great place."
"My new favorite mini putt-putt place"
"The best mini golf around! Fun for all ages."
"Great mini golf course!"
"Very nice place, two 18-hole mini-golf courses and batting cages."
"This mini golf course was spectacular. The family and I had a wonderful time..."
"Great value for the money."
"Staff were helpful and nice."
"Great price and the course looks beautiful!"